Modern Method How to Clean Silestone Countertops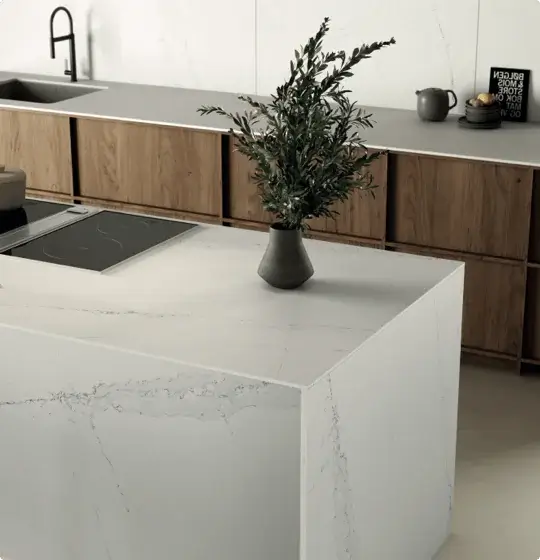 An update and some technical information on the best way to keep your new Silestone countertops clean and looking their best for a long time.
Because Silestone is dense (high compaction) and composed of hard quartz, and high-quality minerals, it is highly resistant to stains. Potential stains do not penetrate the surface unless left for days on end. This makes cleaning after meals or at the end of the day, very easy and quick.
The new Silestone surfaces are manufactured with innovative HybriQ Technology.
HybriQ Technology
The Desert Silver color by Silestone is a hybrid surface of quartz and recycled materials that can bring color and texture to your space through its innovative technology that minimizes maintenance and is highly resistant to stains and scratches.
Clean Silestone Countertops
Step One to Clean Silestone
Apply neutral soap to the affected area and gently rub in a circular motion with a damp microfiber cloth.
Step Two to Clean Silestone
Leave to work for a couple of minutes. Then, with a cloth, wipe off any soap residue. Finally, dry it with kitchen roll.
How easy is that to maintain and clean Silestone countertops!
Other Cleaning Options for Stubborn Stains
How to Clean Limescale off Silestone Countertops
1. Apply an anti-limescale product to the affected area.
2. Gently rub in a circular motion with a damp microfiber cloth.
How to Clean Rust or Metal Stains on Silestone
1. Apply an oxide cleaner and leave it to work for 5 minutes.
2. Then rinse with surface thoroughly with water and then dry.
Get Wine, Coffee, and Tea Stains off Silestone
1. Dilute bleach in water (1:5) and rub on stain with damp cloth in circular motion.
2. Leave it for 2 minutes and then rinse. If the stain persists, repeat process.
Again, super easy to clean stubborn stains off Silestone countertops and surfaces!
Common Questions on How to Maintain & Clean Silestone
Can I clean my Silestone surface with bleach?
Bleach is an alkaline product that can damage a Silestone surface if exposure is prolonged (from 2 hours).
As long as the surface is well rinsed after each application, you can use a diluted bleach solution on a daily basis.
How can I remove bleach stains from my Silestone surface?
After more than 2 hours of exposure, bleach may cause a chemical reaction on the surface, staining it. These stains are permanent and are not covered by the warranty, as indicated in the maintenance manual.
Is Silestone heat-resistant?
Silestone is heat-resistant. However, bear in mind that sudden changes in temperature can affect it, in the same way it would affect other stone materials. Therefore, in order to avoid damage when placing hot objects on the surface, it is highly recommended to use trivets.
Can I place Silestone outdoors?
Silestone is not recommended for outdoor use, as UV rays can damage its surface.
My Silestone surface has some soap/water stains that have not dried properly. How do I remove these stains and prevent them from appearing?
To remove all traces of soap from your surface, rinse with plenty of water and a clean cloth, and then dry with kitchen roll.
If stains persist, you should clean the surface with limescale remover, a blue scouring pad and water. Always clean in a circular motion for 1-2 minutes. Then rinse with plenty of water and dry with kitchen roll.
Can I use a multipurpose disinfectant (e.g. Sanytol, Lysol…) to clean my Silestone surface?
Yes, you can clean the surface with a disinfectant solution. Diluted products are always preferred. Undiluted products should not be left on for more than 5 minutes.
Can I use multipurpose cleaners to clean my surface?
Yes, these cleaners usually contain alcohol, which makes it easier to clean and removes any soap residue.
My Silestone surface has been scratched with a metal container. How do I clean it?
The scratch has left a metal mark on the surface, so cleaning is needed to get the metal stain out. To do this, dilute a metal cleaner with water and use the mixture with a wet blue scouring pad (always in a circular motion). You can also use cleaning vinegar or an anti-limescale product.
I have a chipped edge on my surface. What can I do?
The best way to prevent the edge from chipping is to round off the edge so as to minimise the chipping.
Chipping normally occurs accidentally in frequently used areas (i.e.. under-surface sinks and dishwasher area) where they can usually be repaired. This can be done by your trusted marble supplier, who will use the right products to repair them.
If you are looking for a more professional repair, you can contact expert companies such as: https://artus-instandsetzung.de/es
A crack has appeared on my surface. Can this be repaired?
Cracks on the surface cannot usually be repaired, because even if they are repaired, they continue to grow so the repair will be short lived.
The joint has come loose. How can it be fixed?
In this case, you should inform your trusted marble supplier, or the company that installed it, so that the joint can be re-made and the cause rectified.
Can I clean my Silestone surface with household cleaning wipes?
We recommend using cleaning vinegar to clean and disinfect Silestone surfaces. If you use household cleaning wipes, we advise you to test them first on one corner of the surface and check the result.
How can I remove adhesive residues from my Silestone surface?
We recommend using CleanColorsil, our silicone and resin cleaner that protects the surface and keeps it sparkling. This spray cleaner is applied directly to the surface and rubbed on with a cloth or sponge until the adhesive marks are removed.
Other silicone and resin removers can be used as long as they do not affect the composition and care of Silestone surfaces.