Elegant, beautiful and dramatic cooking spaces with contrasting or monochromatic schemes…
The color black is an ideal canvas and starting point for both contemporary drama or calming poise. Since it is a neutral color, it will go with almost anything. Be sure to plan the space out well and make sure everything comes together because a black kitchen be both modern and traditional. the result simply depends on how it is finished with other elements.
There are tons of design variables that kitchens can bring into their fold by using black countertops or other black features. From drama to a sense of calm, ultra dark colors has the quality of making the guest feel settled/calm and important (center of attention) at the same time. The dramatic feel of a dark work surface is why there has been a growing trend for kitchens to feature a sleek look.
What accent colors should you use for a black-focused kitchen?
Black doesn't clash with any color. It can help other colors or elements stand out or transition the palette to other color in another area or room. Playing with a palette of other darker tones is easiest, so think about dark blues and greens. Wood also works well in its various forms or types.
First, consider is the kind of atmosphere you want to create. Black and white is a combination that can be trendy, but it's really better for smaller kitchens because it helps spaces feel light and airy.
Whether you use black materials that will add depth to your space or extras that will make a dark kitchen dazzle, here's why black color schemes are a top kitchen color idea going in to 2023.
Black kitchen countertop ideas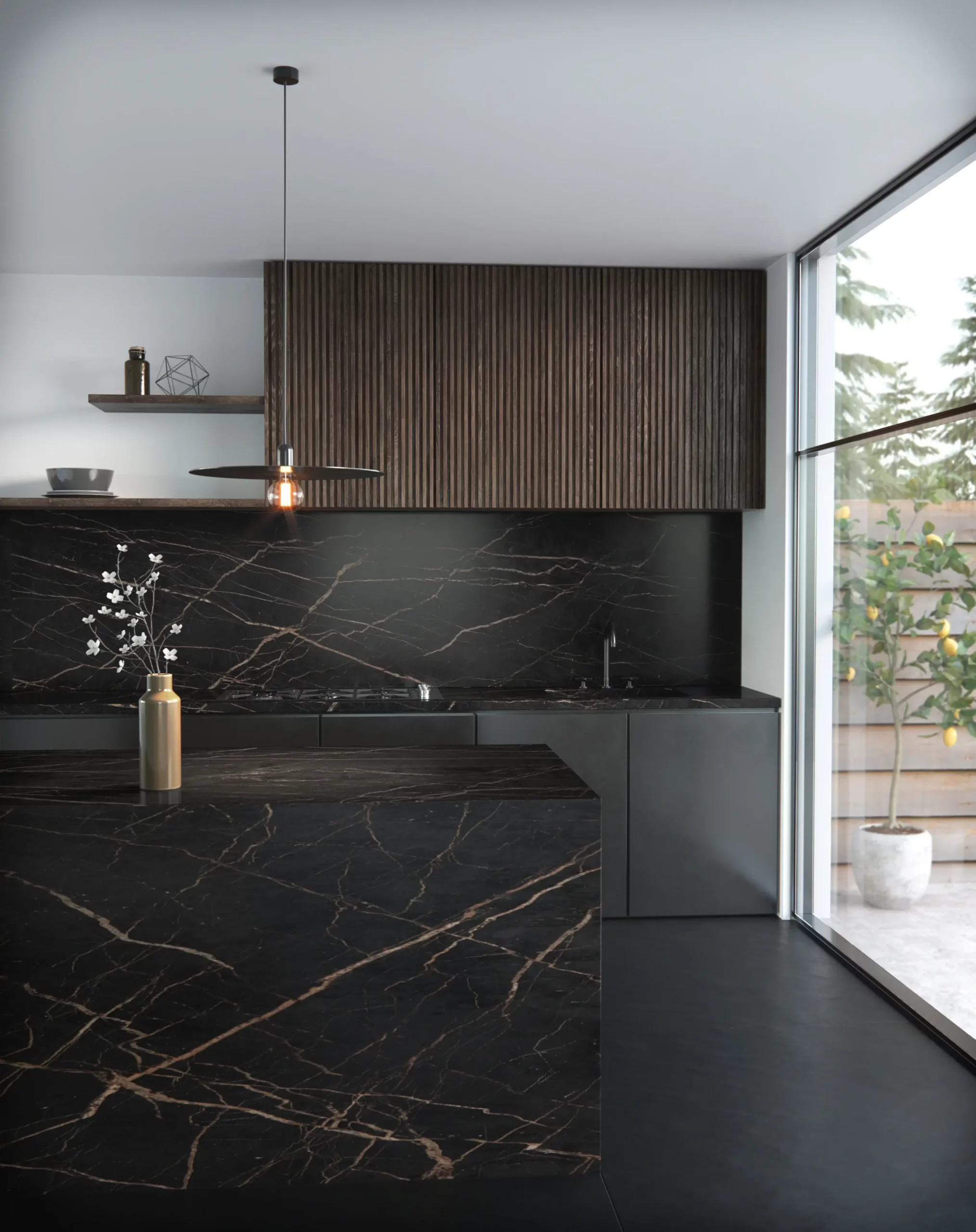 Layer up tones of black
If you can't get enough of this scheme, go all out and make everything black. A black kitchen works great with monochromatic schemes. Bring in dark materials and layer the kitchen with dark textures to create a feeling of warmth and luxury.
Be sure to use varying tones of black or incorporate very dark grey colors into the kitchen design. When you use a palette of different black materials and textures, you can achieve a masterful lightness within the kitchen that keeps it from feeling too heavy.
Black kitchen for drama
Other dark colors can appear almost black, which adds depth to to near-black tones of other nearby colors. Dark surfaces can be a way to make the kitchen feel like its own room in open concepts.
Combine with wood for natural style
Add striking modernity to wood kitchen cabinet ideas with supplemental black features.
If metal accents don't suit your kitchen and you prefer natural finishes, black work surfaces look striking next to wooden cabinetry and accessories. A black backsplash and island paired with warm wooden cabinetry has the potential to add both contrast and textural element to the kitchen.
Black marble is luxurious
Black marble can make a striking impact in a kitchen, whether it's white-flecked patterns, gold lightning boltst, or veins and cracks. A stunning marble island can act as a dramatic centerpiece to an otherwise simple modern kitchen.
Dynamic finishes in your kitchen
When coming monochromatic, it's important to add different finishes and textures to avoid looking flat. It is possible to pack texture into an all-black room. Glossy tiles, brushed metallics and matte cabinets all combine beautifully. Fluted glass and dark worktops can also add to the overall look of the kitchen while brass cabinet handles can add great contrast.
There is a huge choice of black materials nad surfaces that can work beautifully together to create an all-black scheme.
Combine black with dark colors
As we've already mentioned, black can be used to emphasize other colors and finishes in a kitchen. For example, brightly-colored bar stools or metallic lighting can pop. Being neutral, black can be used as the perfect backdrop to any color and deep, dark accents work particularly well. Blue-black and green-black can be equally versatile, depending on setting like when you pair black cabinetry with blue kitchen ideas set in inky teal walls.
Bold Brass accents with black countertops
Aged brass or brushed metallic accents will always work well against darker countertops or black cabinets. Bold brass details accentuate the color of dark cabinetry.
Be sure to focus on acent colors in the black countertops you choose. Metallic finishes can work really well with deep rich colors when you pair brass accents with a green-black, the pairig can trigger feelings of warmth. Other metal accents such as copper, steel or pewter can also pair perfectly with dark work surfaces to give a kitchen a lavish and modern feel.
Get texture from black wood finishes
Stained your cabinets a neutral black to preserve the natural wood grain and texture. Keep sheens to to a minimum on the paint or stain finish, for a more rustic kitchen or a traditional kitchen.
Monochrome with a black and white kitchen
For a kitchen that juggles both contrast and balance, consider black and white kitchen ideas. Try to bring in dark accents with lighter shades such as white to create a monochrome color scheme. A black monolithic island can look very dramatic against a light kitchen or vice versa. Black cabinets set against white walls and white tile for a clear, almost graphic-design quality is even better without upper cabinets.
Industrial design in the 2020s with black countertops
Dark kitchens can be used to create an industrial and raw feel that are unique to the 2020s. Charcoal black countertops work really well to create a utilitarian aesthetic that can meld into modern industrial. Add to that an exposed brick wall and black cabinets for mega-industrial.
Back to all black kitchens and countertops
Ensure a seamless flow between the external architecture and interiors with a reduced color palette of soft grey and black. External light canprevent a kitchen from looking too dark or dreary.
Finish it all with appliances that have black veneers
Countertops and cabinets aren't the only thing that can be black. Many appliances are now available in black to finish a seamless look. Black glass-fronted appliances create a pleasant texture contrast to matte black countertops or cabinets.